OREAD Top Page Photos 2011


1.

Charley and Hattie Webb, the sublime Webb Sisters at the Colloseum, Caesars Hotel,
Las Vegas backing up Leonard Cohen with their angelic voices on December 11, 2010.
Their presence contributed immensely to the sucess of his concerts throughtout the
world in the past three years. Photo by miura..


---
2.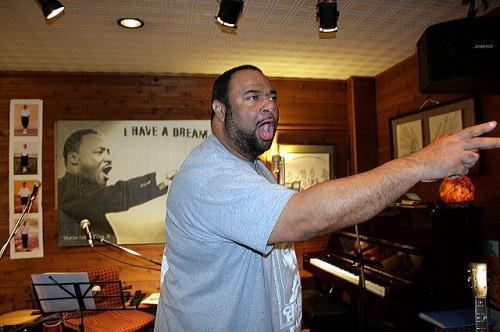 Last year's Martin Luther King, Jr. Day Benefit Concert: Richard Robinson talked about
his encounter with Martin Luther King, Jr. as a child and his experiences as an African-
American in high school and college. His story truly embodied what Dr. King said-- I have
a dream that my four little children will one day live in a nation where they will not be
judged by the color of their skin but by the content of their character. Photo
by k. miura, January 17, 2010.


---
3.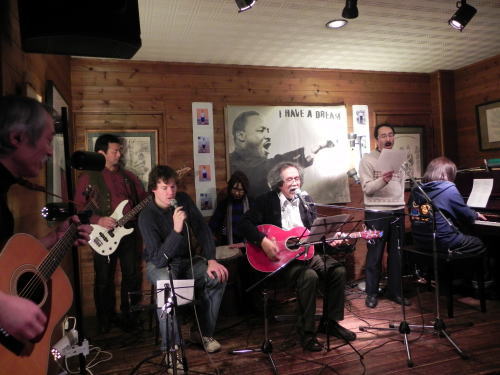 The 3rd Annual Martin Luther King, Jr. Day Benefit Concert at OREAD. Singing
We Shall Overcome at the grand finale. People in the audience crossed their right
arms over their left and joined hands like the people in the Civil Rights Movement
did when they sang this song. Photo by k. miura, Jan 16, 2011.


---
4.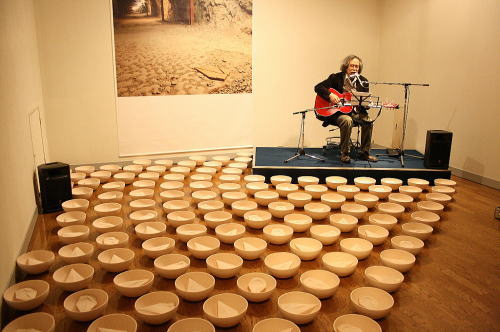 Hisashi Miura, singing Kamsahamnida, Lee Soohyeon at Tatsuno Municipal Art Museum.
In front of him is an artwork created by Prof Hitoshi Kimura. In each bowl there is a paper
crane (actually made of clay), a symbol of peace in Japan. An unglazed bowl has been
used in Shinto shrines to offer or dedicate "things" to deities. The artist is said to have
started creating this "paper crane" image as a memorial to the Korean people who were
forced to come to Japan and eventually died while digging a deep and long cave for the
Inmerial Headquarters during the world war II. The photo on the wall shows the cave and
the image he created. It is located in Matsushiro in the northern part of Nagano Prefecture.
Photo by Akira Kakiuchi, January 22, 2011.


---
5.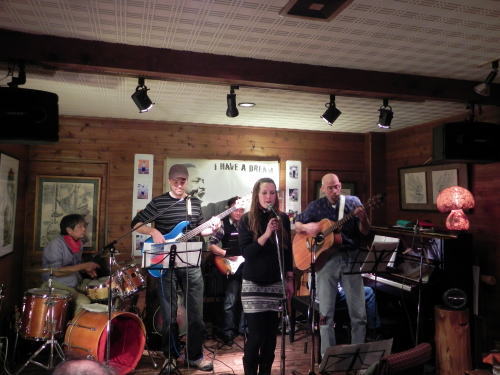 The Southbound Six kicked off their show at the Oread Open Mike on Jan 22, 2011
with Wagon Wheel. Cait Hofmann's vocal soaring high impressing the audience
tremendously. She was supported by Dave (piano), Martin(guitar, backup vocal),
John (guitar), Yoshi (bass) and Saito (drums). Photo by miura.
---
6.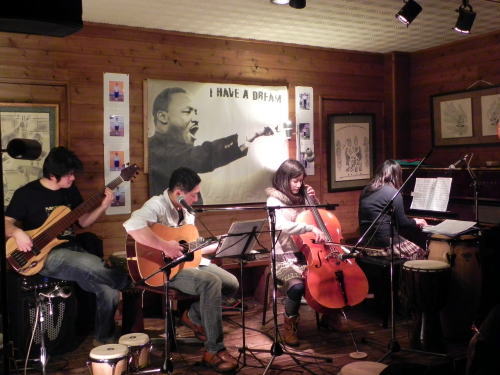 Kirakira Ongaku Ryodan (Twinkling Musical Troupe), from left Ryosuke
Matsuhashi (bass), Mahoro Yamaguchi (guitar, vocal), Aya Ohmori (chello)
and Mitsuko Yamaguchi (piano) performed at Oread Open Mike impressing
the audience with thier songs strongly influenced by Irish music. Photo by
miura, Feb 5, 2011.


---
7.



Happy faces at Oread Open Mike, Feb 12, 2011. Photo by miura.


---
8.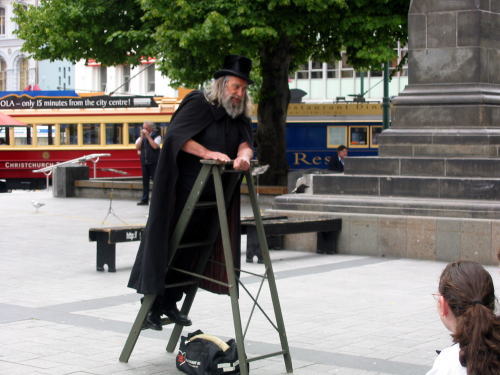 A man, well-known in this area for his most wonderful eccentricity, talking to the
tourists in the Cathedral Square, Christchurch, New Zealand. He must be having a
hard time now as the North Tower of the Cathedral, the Symbol of the City sadly
collapsed in the recent quake. Photo by miura, November 30, 2005.


---
9.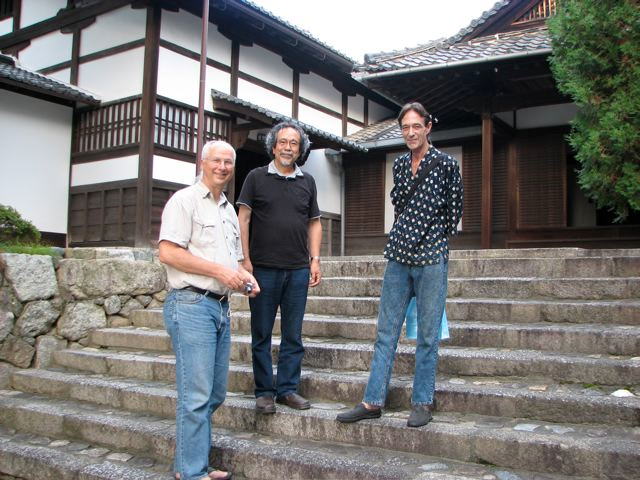 Old friends. From left, Tayo, Hisashi and Jim on the steps to the entrance to
Tofukuji Monastery in Kyoto. Tayo came from Vermont, Jim from Vietnam,
Hisashi from Nagano and Michael who took this photo was lving in Kyoto at
that time. We all came to meet Fukushima Keido Roshi, our Zen master who
was beginning to suffer from Parkinson's disease. We all fell in love with him
when we met him for the first time in Santa Barbara in 1969. Fukushima Roshi
passed away on March 1, 2011 on his 78th birthday. May his soul rest in peace.
Photo by Michael, September 27, 2007.

You can read in Japanese how we met each other and Fukushima Roshi in
Santa Barbara in 1969--http://www.nagano.net/journal/miura/980214.html


---
10.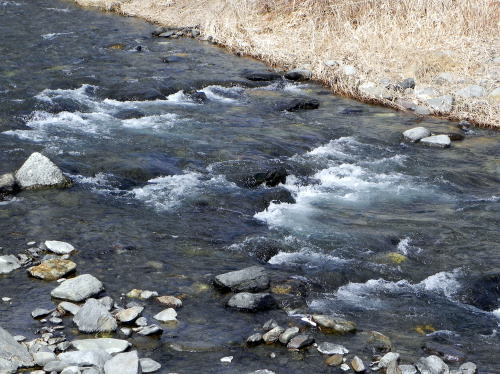 Yokokawa River runs peacefully through Imamura, a tiny village in Nagano, despite
the horrible quakes and tsunamis that hit the northeastern Pacific coast of Japan,
500 kilometers from here. Although it may take a long time, hope the rivers in those
areas will run peacefully again, giving joys to the people who come near them.
Photo by miura, March 15, 2011.


---
11.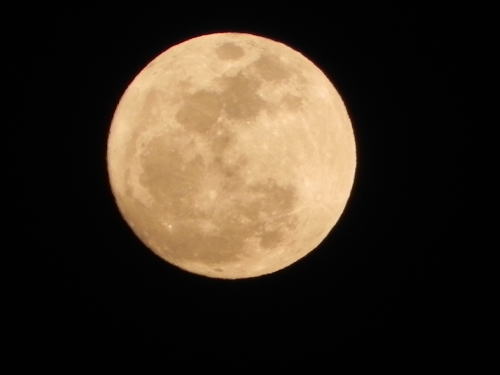 According to an article in the CNN website, "Full moons look different because of the elliptical
shape of the moon's orbit." This full moon on the night of March 19, 2011 is the biggest
full moon since 1993. We will be able to see the full moon as big as this in 2029. It was truly
a gorgeous full moon. Just breathtaking! Photo by miura, March 19, 2011.


---
12.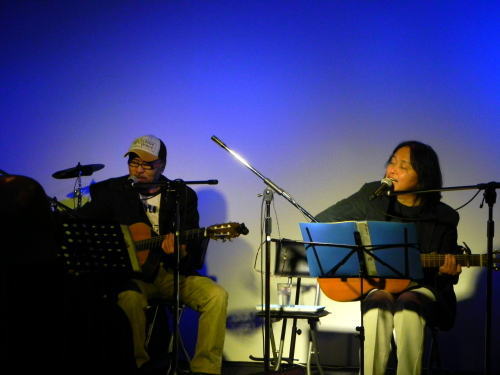 Bun Nakamura and Hisao Hakomori at JUST, a live music venue in Matsumoto, impressing
the audience with their songs and music. Photo by miura, March 25, 2011


---
13.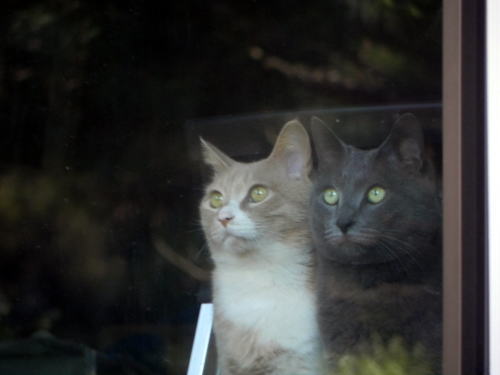 Sophie (right) and Phoebe staring very intenely at a couple of turtledoves making
a nest on the yew tree in our yard. Photo by miura, March 28, 2011.


---
14.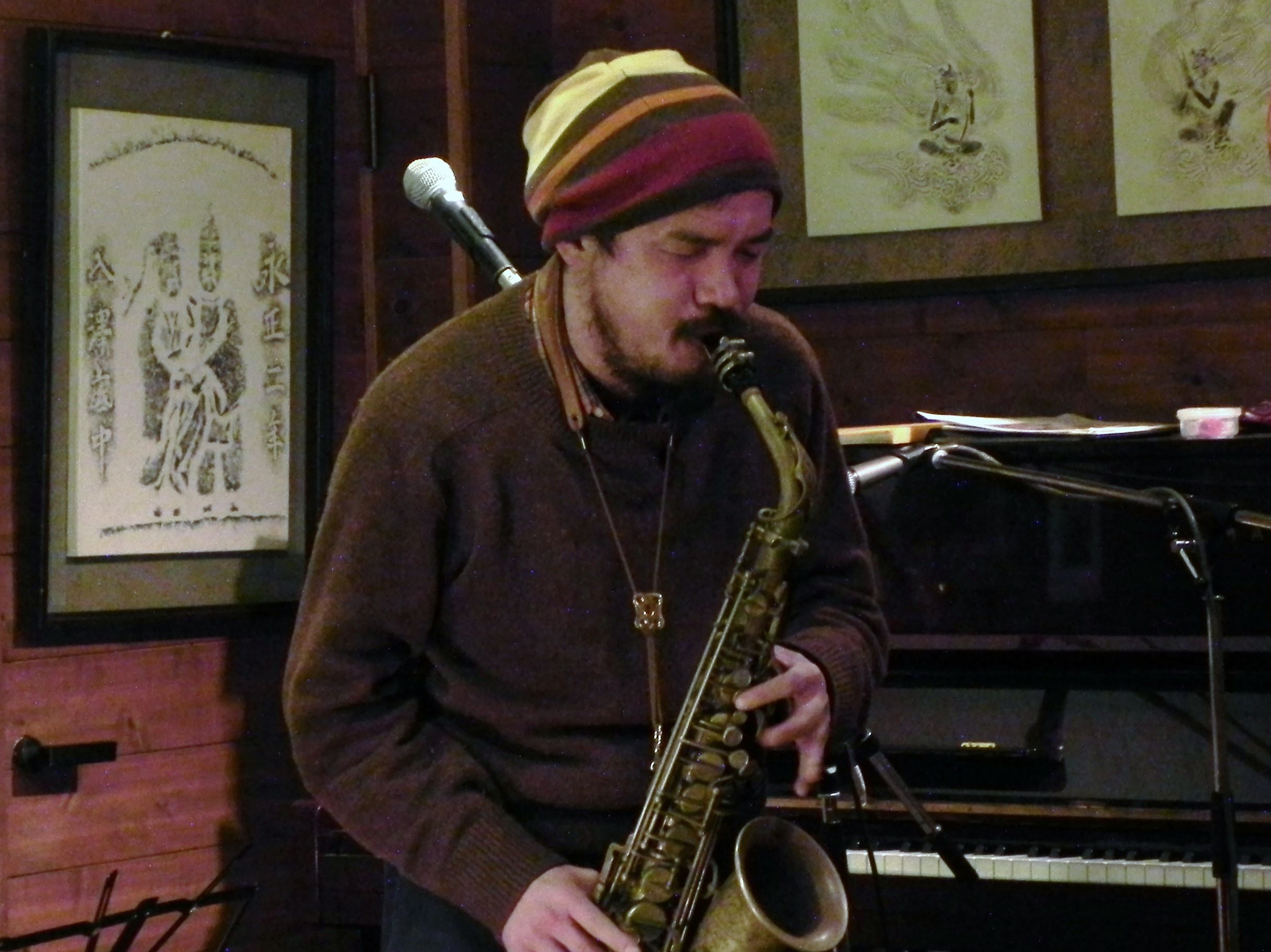 Hiroshi Ohta playing Misty at the Oread Open Mike, impressing the audience with
his incredible skills and exquisite sounds of his saxophone. Photo by miura, 4/2/2011.


---
15.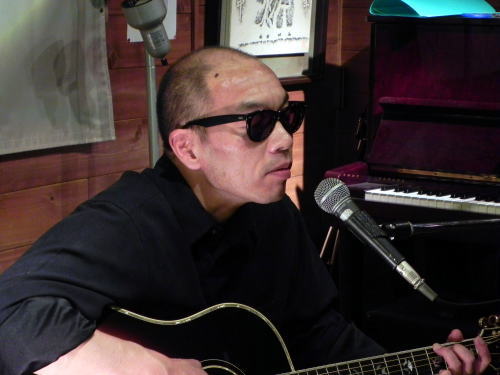 Kazuhiro "Kamesen'nin" Fujomori, singing "Miagetegoran Yoruno Hoshi-wo" as the last
song of his set at Oread open mike, impressing the audience with his awesome high tone
voice. Photo by miura, April 9, 2011.


---
16.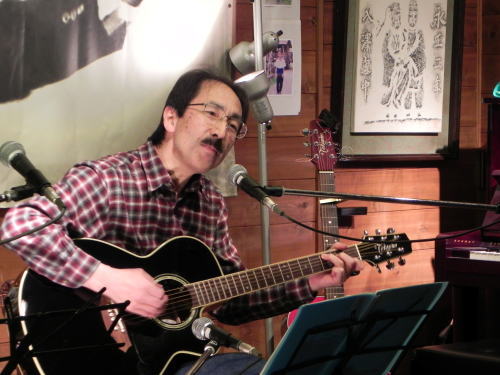 Makoto Akahane singing "My Soul in Sad Exile" or "Jinsei no Umi no Arashi ni"
which is one of his favorite hymns he sings often at OREAD open mike. Here is
the URL for the You Tube in which you can listen to the music and read the lyrics.
http://www.youtube.com/watch?v=JbJNaYD24zI Photo by miura, April 16, 2011


---
17.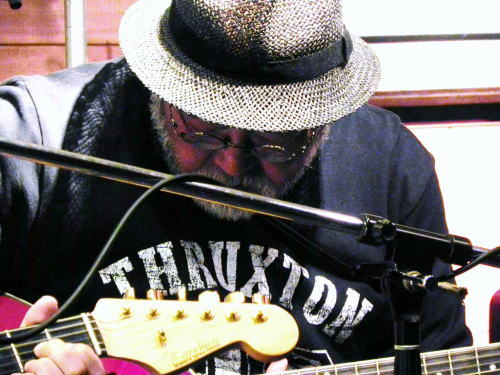 Norimichi Kamiura, a blues guitarist from Iida, impressed the audience first with his
appearance and then with his guitarwork at Oread Open Mike, April 30,2011. Photo
by miura..
---
18.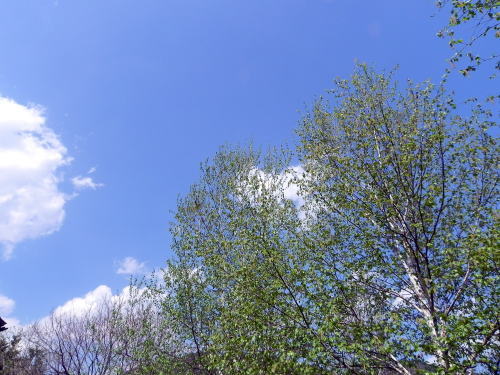 It's still early May but it seems summer is already here. A long winter, a brief spring
and a long hot summer and then.... Hope it won't be like last year. But for the time being
it is truly a beautiful summer day. The young leaves of birch trees are swaying in the
breeze. Photo by miura, May 8, 2011.
---
19.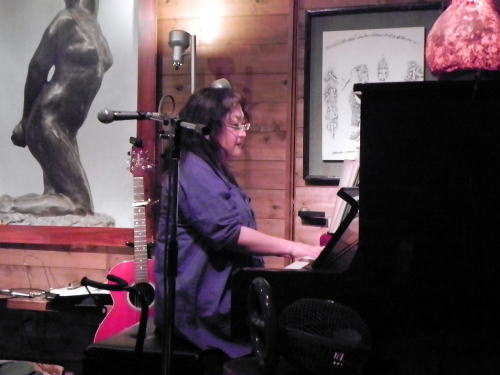 Kazue Harada playing Bach's Air on the G String, impressing the audience with its soothing
and healing melody at OREAD open mike on May 14, 2011. Photo by miura.

Back to OREAD homepage
---
20.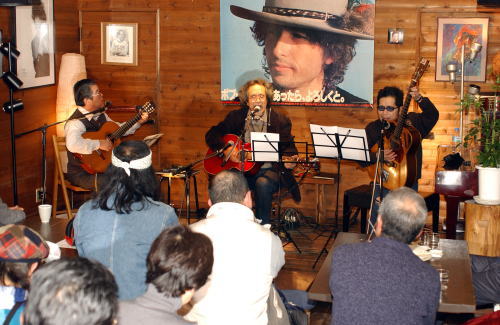 G3s (from left, Hori Roppei, Miura Hisashi, Yoshitaro Kanasaki) gave a concert
together for the first time, at Oread on January 19, 2008. Photo by A. Kakiuchi.
They performed together again last year in December at JUST in Matsumoto and
now they are going to have their third concert at KURUMI, a live musci venue in
Chino City in Nagano on May 21 (Sat) this week. If you are interested, click the
P\following URLs. Photo by Akira Kakiuchi.


---
21.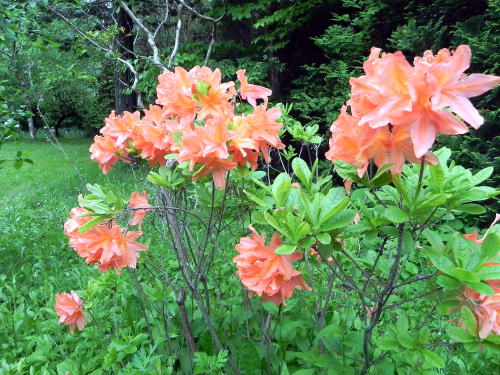 Orange-colored azaleas, brightening the gloomy yard in rainy season.
Photo by miura, May 27, 2011.


---
22.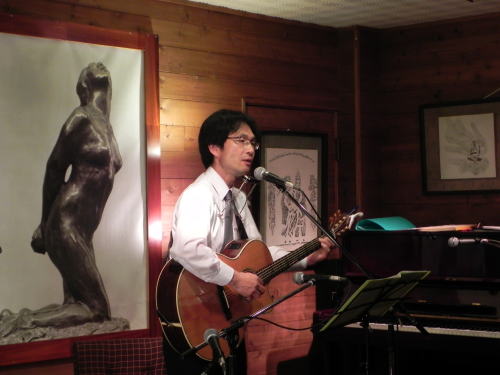 Kei-ichi Fujimori, singing "Sisi Sote Sawasawa," a song he wrote based on a talk he
heard by a Tanzanian woman married to a Japanese at Oread Open Mike. The song
title means we are all worthy and the same, regardless of differeces in race, color of
skin or ways of thinking. Photo by miura, June 4, 2011.


---
23.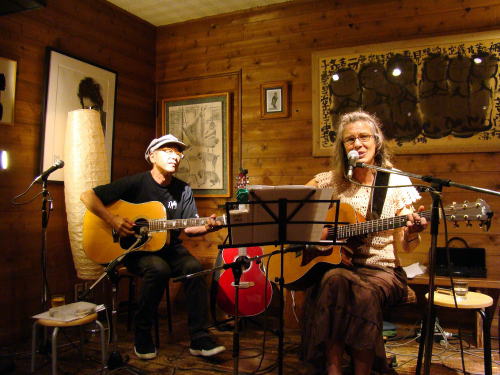 Leslie Tift came from Mount Shasta, California to sing for us at the Firefly Festival
Concert last year. She impressed the audience with her beautiful singing and great
guitar work. This year we'll have James Dorsey from Dartmouth College, New Hampshire
to give a talk during the concert. Photo by miura, June 19, 2010.

http://www.shinshu-liveon.jp/www/topics/6072
http://www.shinshu-liveon.jp/facility/node_46161


---
24.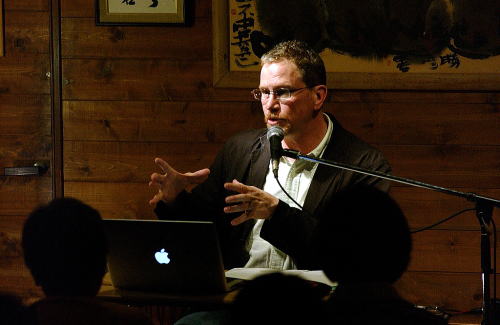 James Dorsey, giving a talk on the late 60s folksong movement in Japan during
Hisashi Miura's 15th Firefly Festival Concert held at Oread on June 18, 2011. It
was truly a boon for us to be able to hear a professor in the department of
Japanese and Japanese Literature at Dartmouth College elucidate on the impact
it gave to the popular music scene in Japan as well as the society in general. Photo
by Akira Kakiuchi.


---
25.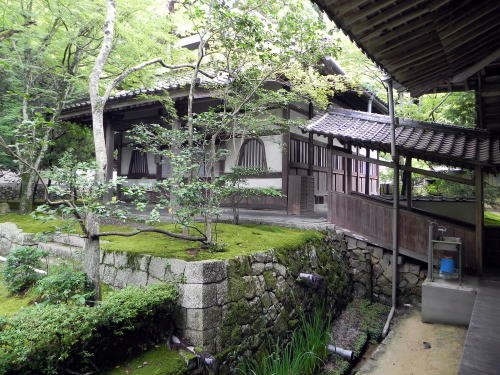 Hofukuji-temple Zendo in Soja-shi, Okayama Prefecture. The camphor tree (kusunoki)
referred to in the song "Hofukuji-nite" can be seen in front of it. Photo taken by miura, June 26, 2011.


---
26.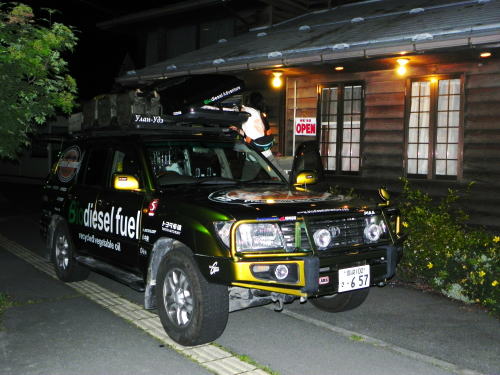 Shusei Yamada's biodiesel-fueld car in front of OREAD. He gave a talk and showed
photos of his trip around the world and his activities in the earthquake/tsunami-hit
Tohoku region at Oread on July 8, 2011. You can know more about his activities from
his website. Photo by miura.
---
27.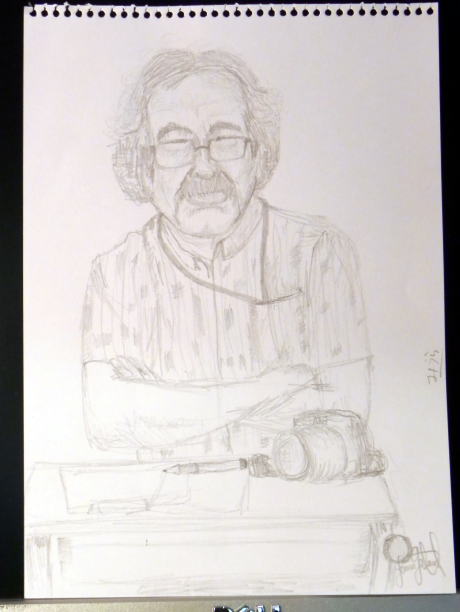 A drawing by one of the Dartmouth students in Dorsey senei's class in
Kyoto, July 4, 2011. I was worried as she wasn't responding to my talk
and was always looking downward. I was afraid she was bored to death.
After the class she came up to me smiling with this drawing. Thank you.
Hisashi Miura

---
28.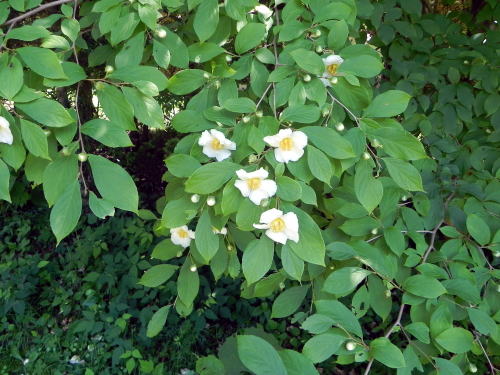 The while blossoms of the sal tree in the yard putting up with the sweltering
summer heat while cicadas are making sharp shrill sounds all around. Photo
by miura, July 15, 2011.


---
29.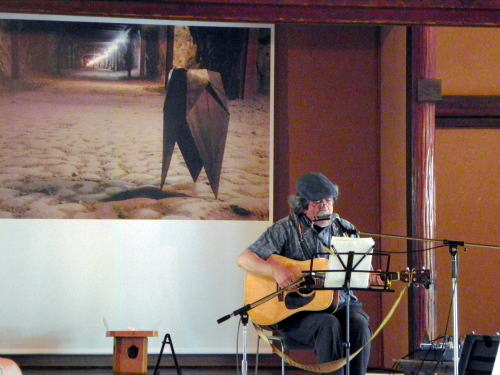 Hisashi Miura singing Kamsahamnida, Lee Soohyeon at Matsushiro Bumbu Gakko
(once a school for young samurais at Matsushiro Clan). Behind him is a photo of an
installation of folded crane created by Professor Jin Kimura. It is placed at the
entrance to the cave dug up by the Korean laborors as a shelter for the Japanese
royal family and governmen dignitaries toward the end of World War II. Photo by
k. miura, July 17, 2011.


---
30.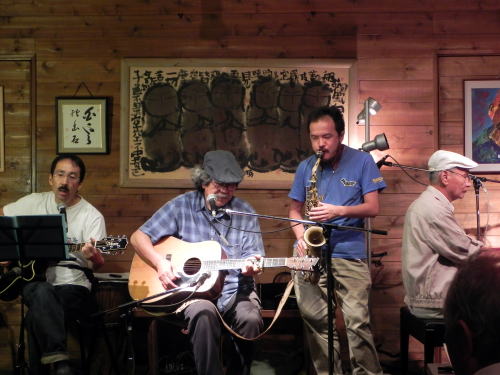 Amazing Grace jam session as the finale of the July 23 open mike at Oread.
From left, M. Akahane, H. Miura, H. Ohta and T. Maruyama. Photo by k.miura.


---
31.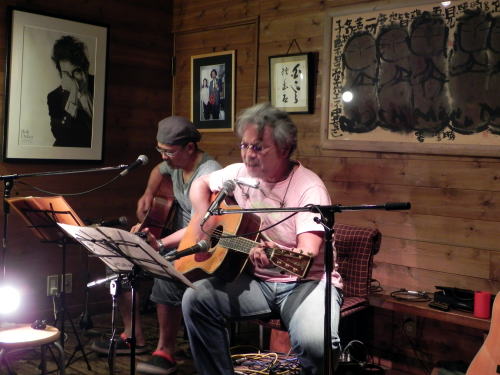 Niningumi (Fujio Muto & Masakatsu Mizobe) impressed the audience with their
energetic performance-with their surrealistic lyrics influenced by B. Dylan and the
Beat poets and their performing style by the Band, N. Young, and B. Springsteen.
Personally I was most impressed with "Keruac of Nakameguro." Photo by miura,
August 6, 2011.

---
32.



Six Jizo (Ksitigarbha) & Heart Sutra by Katsuhiko Sato. This great piece of work
was given to Oread as a gift from a Soto Zen monk Daigu Okazaki, when the original
Oread opened in August 1985. Photo by miura, August 11, 2011.


---
33.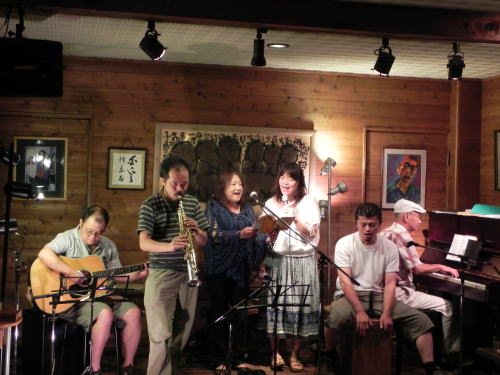 Singing and playing "Tsubasawo Kudasai" (Give Me Wings) which was one of the
higlights of the Oread Open Mike, Aug 13, 2011. From left, I. Nagasihma, H. Ohta,
K. Harada, M.Yamaguchi, R. Matsuhashi and T. Maruyama. Photo by miura.


---
34.



Amazing Grace session, from left K. Miura, H. Tanaka, M. Akahane, I. Nagashima and
K. Harada, who can't been seen but is playing the piano, at the finale of the Oread Open
Mike, Aug.20. 2011. Photo by miura.


---
35.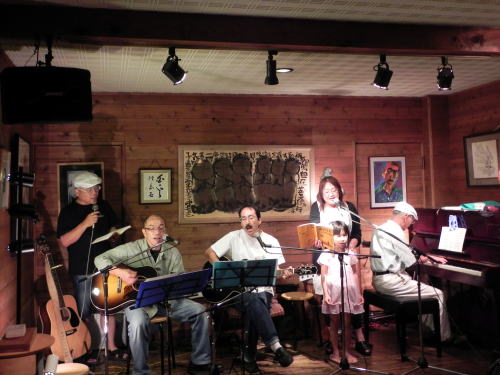 From left, K. Yamaguchi, K.Fujimori, M. Akahane, K. Harada, Aine and T. Maruyama
singing and playing "Tsubgasawo Kudasai (Give Me Wings to Fly with) at Oread Open
Mike, August 27, 2001. Photo by miura.


---
36.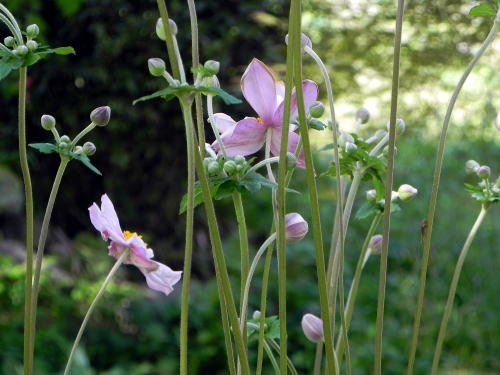 Shumeigiku(Anemone hupehensis var. japonica) is blooming in our yard now to tell
the advent of autumn. It is called 秋明菊 in Japanese but it does not belong to the
chrysanthemum family but to the anemone. Photo by miura, September 8, 2011.

---
37.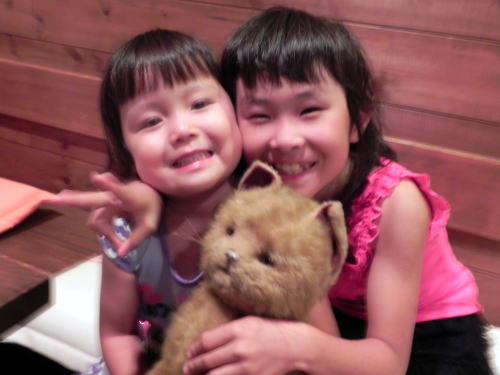 Sisters, Mirei and Aine cuddling a stuffed cat during the intermission at the Oread
open mike on September 17, 2011. Photo by miura.


---
38.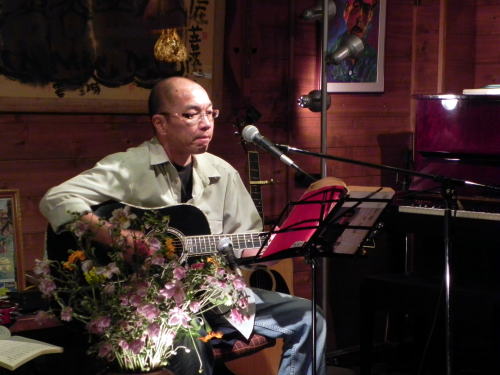 Kazuhiro Fujimori, singing with a determined look "Umi, Sono Ai,"a song by Yuzo
Kayama that has been one of the people's all time favorites for half a century. He
looks a little like Ochiai Kantoku, doesn't he? Photo by miura, September 24, 2011.


---
39.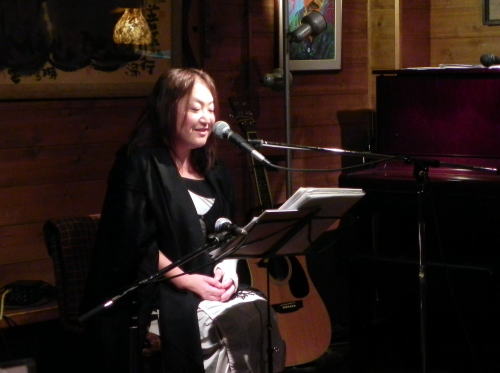 Kazue Harada, singing "Cynthia" a cappella with a smile. It's a popular song by Tomoyo
Harada. She usually accompanies herself on the piano but she refrained from doing so
as she had an injured wrist from falling from the stairway. Photo by miura, October 1, 2011.
---
40.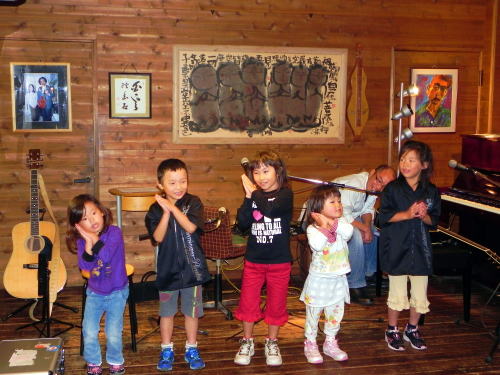 Cute and happy children (three sisters and a sister and a brother), all Fujimori-san's
relatives, singing and dancing "Code of Marumo(Marumo no Okite)" at the OREAD
open mike on October 8, 2011, They brought smiles to everybody in the audience.
Photo by miura.
---
41.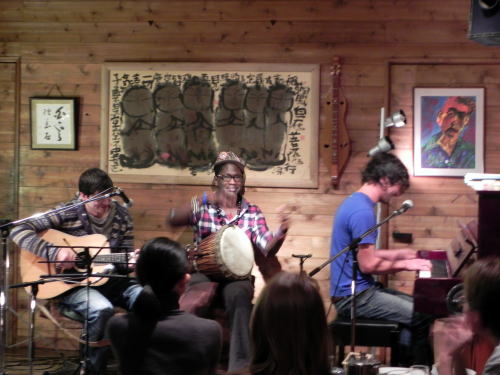 One Love, One Heart, Let's get together and feel all right! Great jamming by Stephen,
Idris and Daniel at Oread, October 21, 2011. Photo by miura

---
42.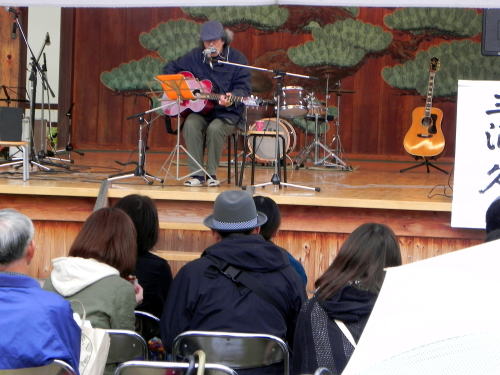 Hisashi Miura singing his version of When I'm 64 on the Noh stage at Kayabukinosato
(thatched roof village) during the annual Autumn Tints Festival in Kawashima,Tatsuno, Japan.
Photo by Roppei Hori, Oct 30, 2011.


---
43.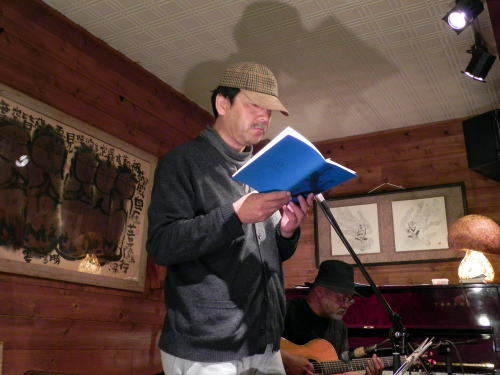 Akira Matsuo reading the poetry and prose of his own writing at the Oread open mike
about the Japanese counter-culture movement in late sixties and early seventies, citing
the places and people he encountered during that exciting period in Nagano Prefecture
and Tokyo. Photo by miura, November 5, 2011.
---
44.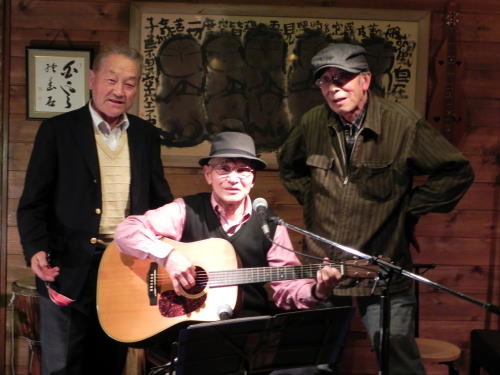 K. Harada (72), T. Maruyama (70) and S. Kaneko (84) singing Amazing Grace at the
Oread Open Mike. It is truly an amazing grace to have them perform together at Oread.
They are all together 226 years old. Photo by miura, November 12, 2011.
---
45.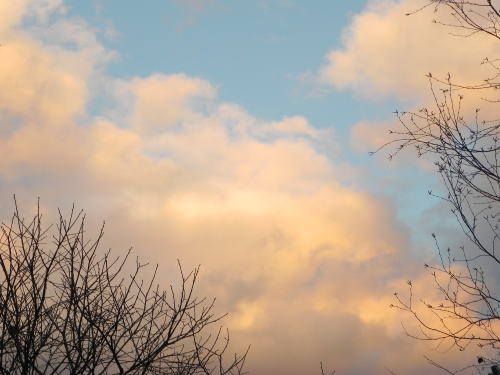 Late autumn sky in Imamura, Tatsuno, Nagano, Japan. November 20, 2011.


---
46.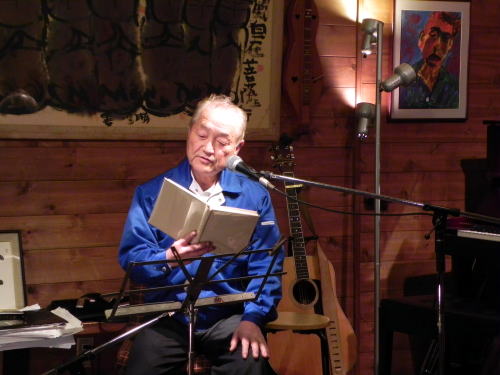 Kazuo Harada reading poems by Masao Nonagase at an Oread open mike.
Photo by miura, December 3, 2011.

---
47.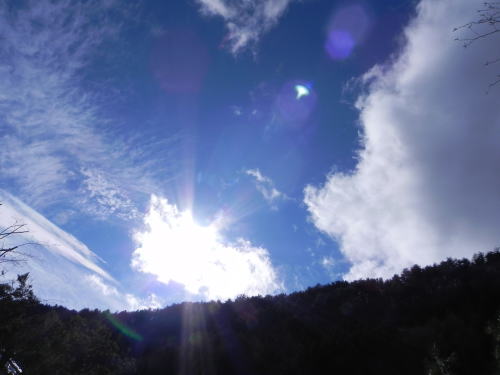 And God said, Let there be light: and there was light. Photo by miura, Dec 9, 2011.
---
48.

       

        public domain photo.  MLK with LBJ 


Back to OREAD homepage